Author:Stella
E-mail:stella@wonderfulheyi.com
URL:https://www.adhesivematerial.net/pattern-paper-amazing-beautiful-maple-tree
Welcome to today's Hiey craft class!
The craft of today is a vey very beautiful tree made by pattern paper and ture little trunk.
The craft work has amazing beauty I think.
And now,let's start!
Step 1: First of all,prepare some pattern papers different in pattern and get some twigs just from outdoor for free.Don't forget prepare some string.
Step 2: Then put the twigs in a beautiful bottle.Like the following picture,and it is in the left.The bottle I use today is a traditional chinese china bottle with elegant modelling.And the blue of the bottle is kind of ice blue.It looks very classic.Of course you can use any bottle you prefer,the topic of today is pattern paper.Any bottle will look perfect together with pattern paper in my submission.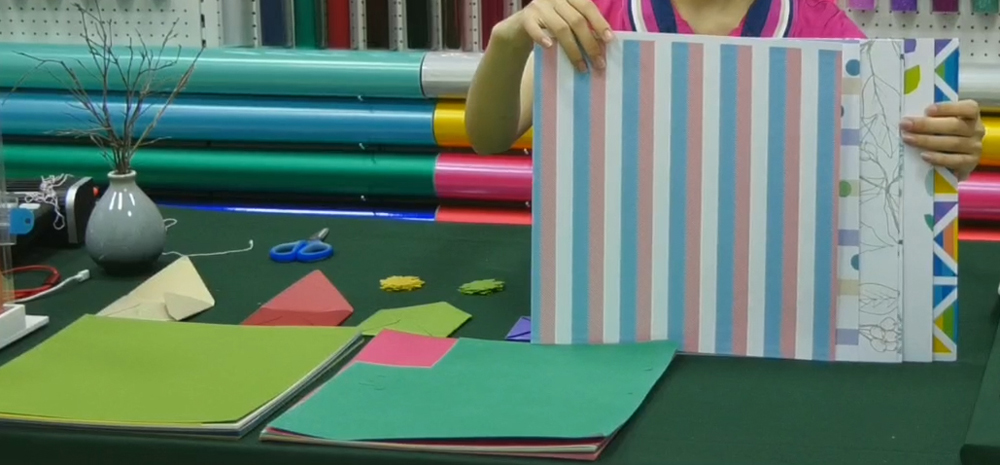 Step 3: Thirdly,design the shape you prefer and cut out.We design a shape of maple leaves.You even no need design the shape of leaf,a flower sahpe is also perfect.And today we use a shape of maple leaves for your reference.You can design whatever shape you prefer.Or you can design several shapes in a same work.The craft work will be more dreamful,if you do that.Turn back to our design. We design a very vivid shape as the following picture.And because of pattern paper,the shape is colorful.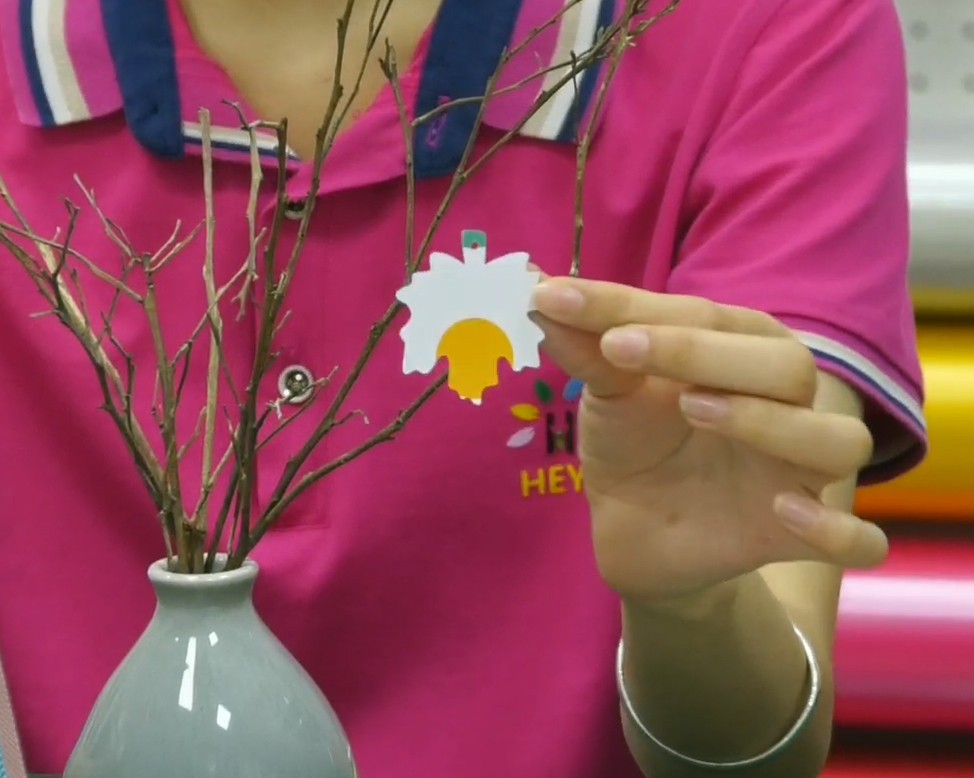 Step 4: Use different pattern papers to cut out, making the tree more colorful & vivid.Like red pattern paper,green pattern paper,yellow pattern paer,blue pattern paper.Just like leaves of a tree in natural in different period.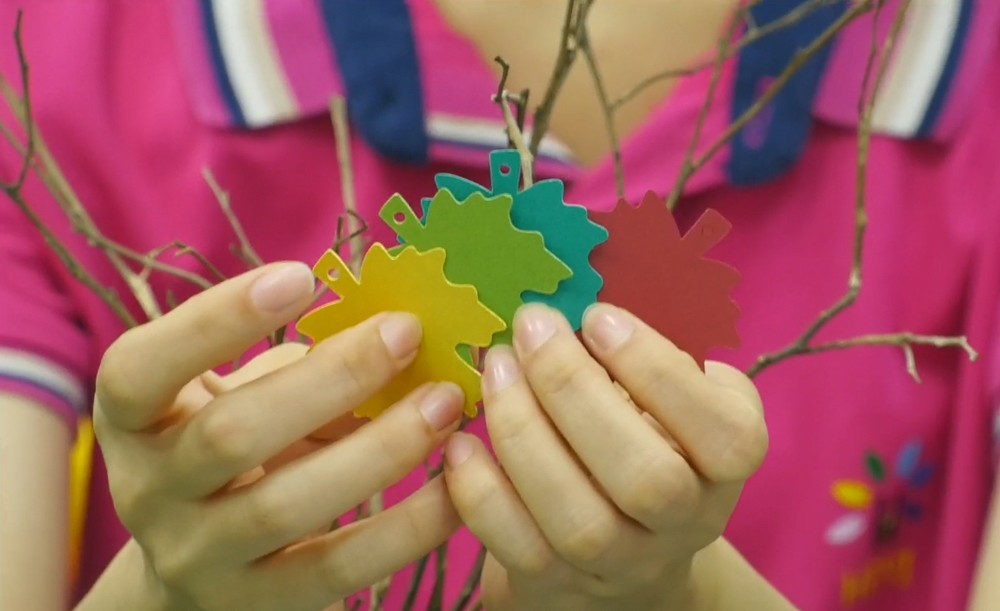 Step 5: Now we come to the fifth step,we need to use string to hang the leaves on the twigs.And it is better to design a hole on shape in advance.
Step 6: Let string through the leaf first,then tie a knot.Just like showed in the following three pictures.The following pictures is step by step.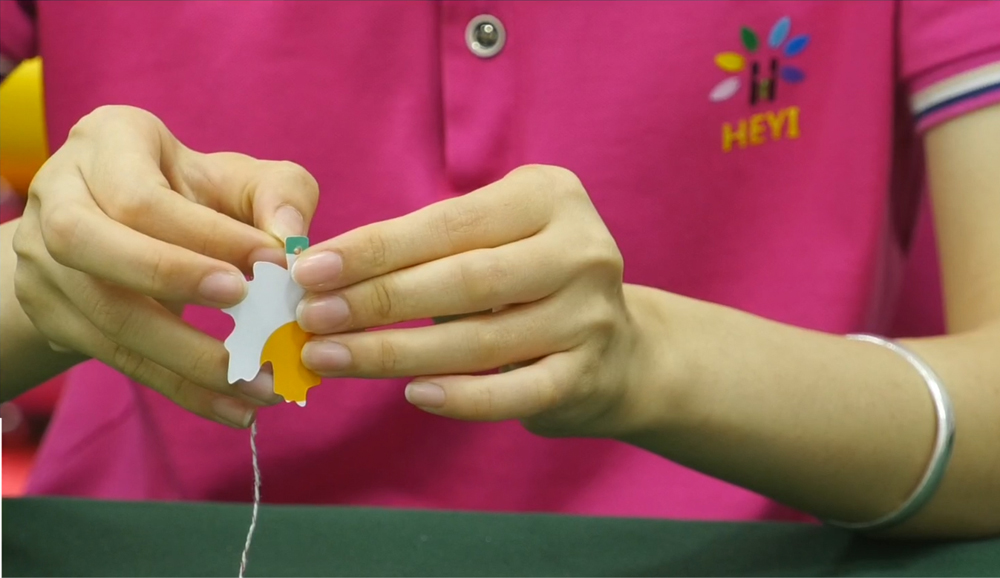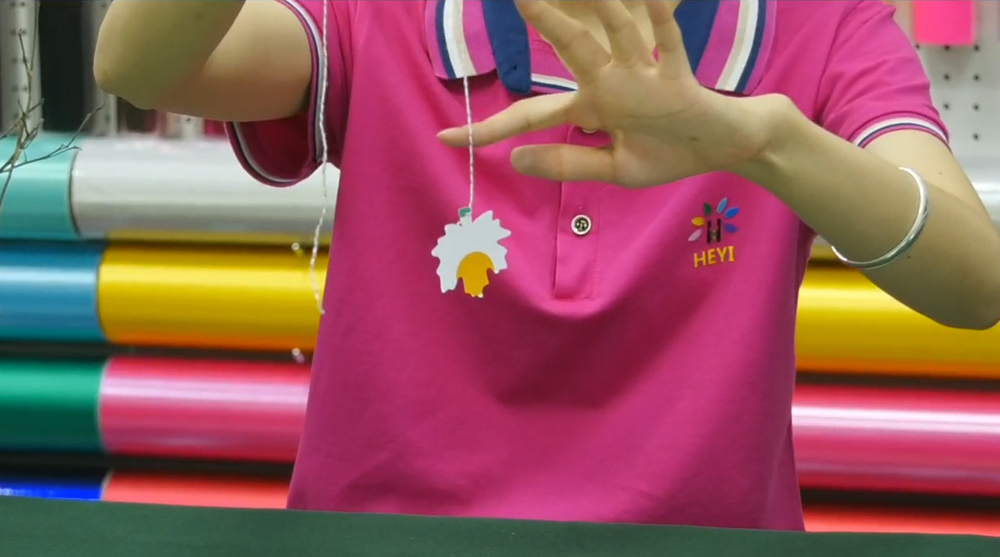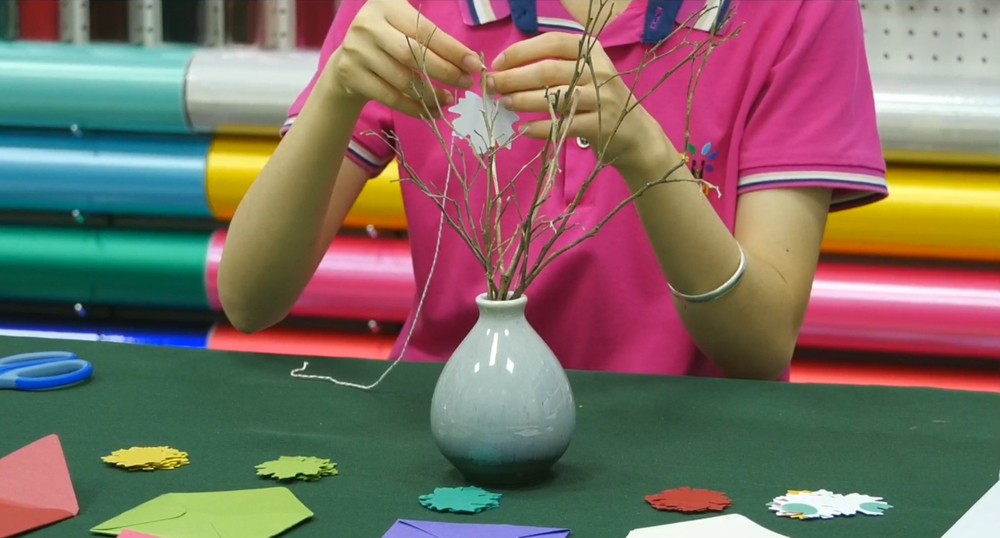 Step 7: Then we can see a leaf hang on twigs sucessfully like the following picture.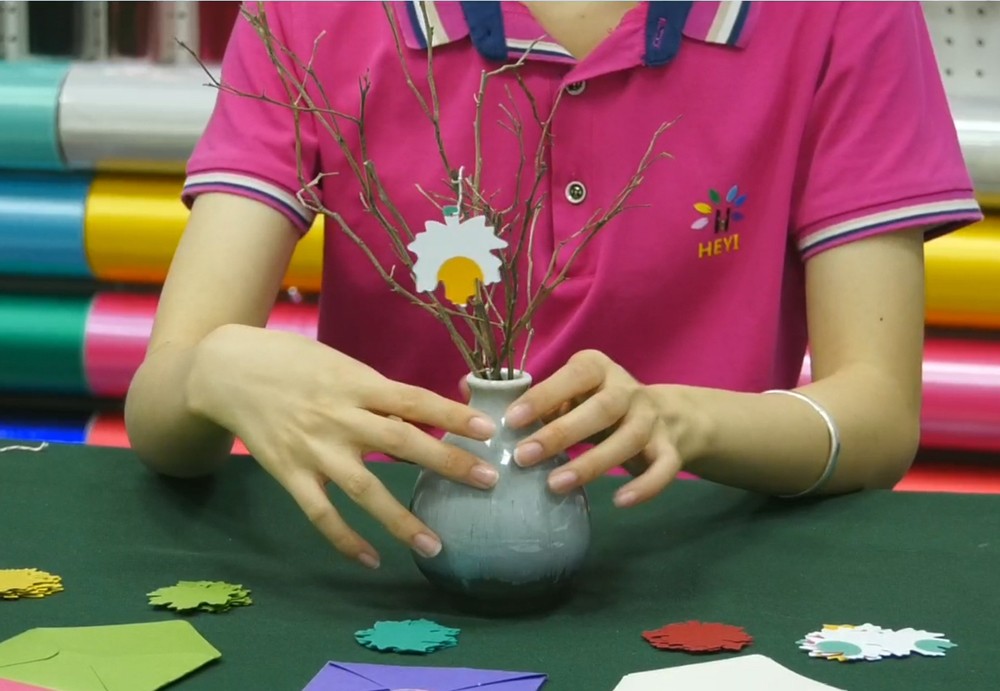 Step 8: And we need do the same thing many times.It require us have perseverance here.But the process is also have a lot of fun I think.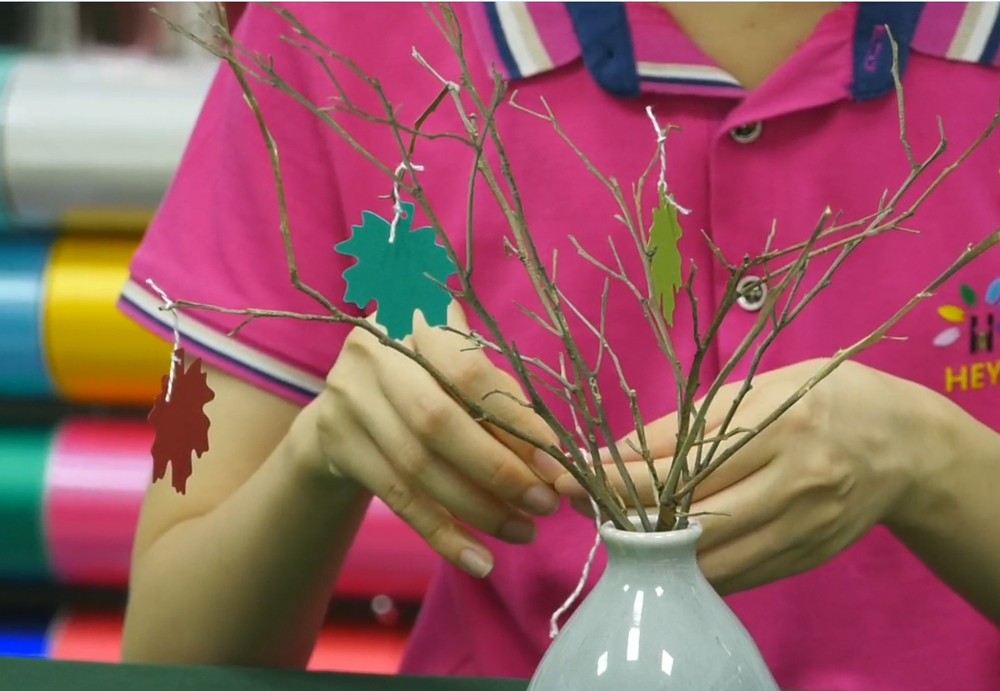 Step 9: The work became more beautiful with more leaves on it.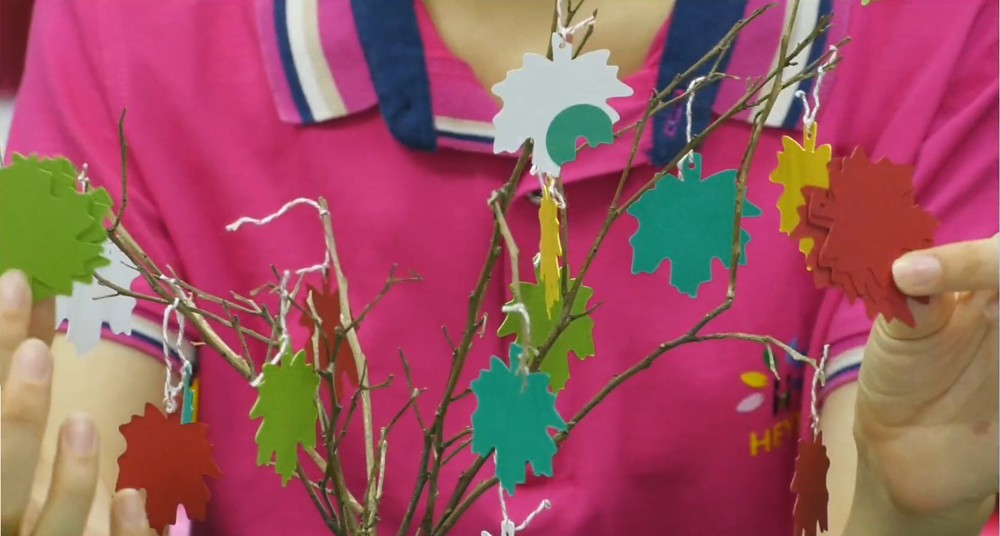 Step 10: More,the number of this addition is about 10.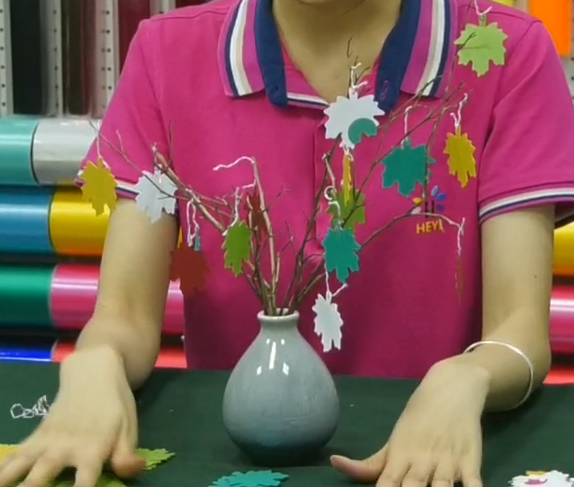 And more,add more leaves continue.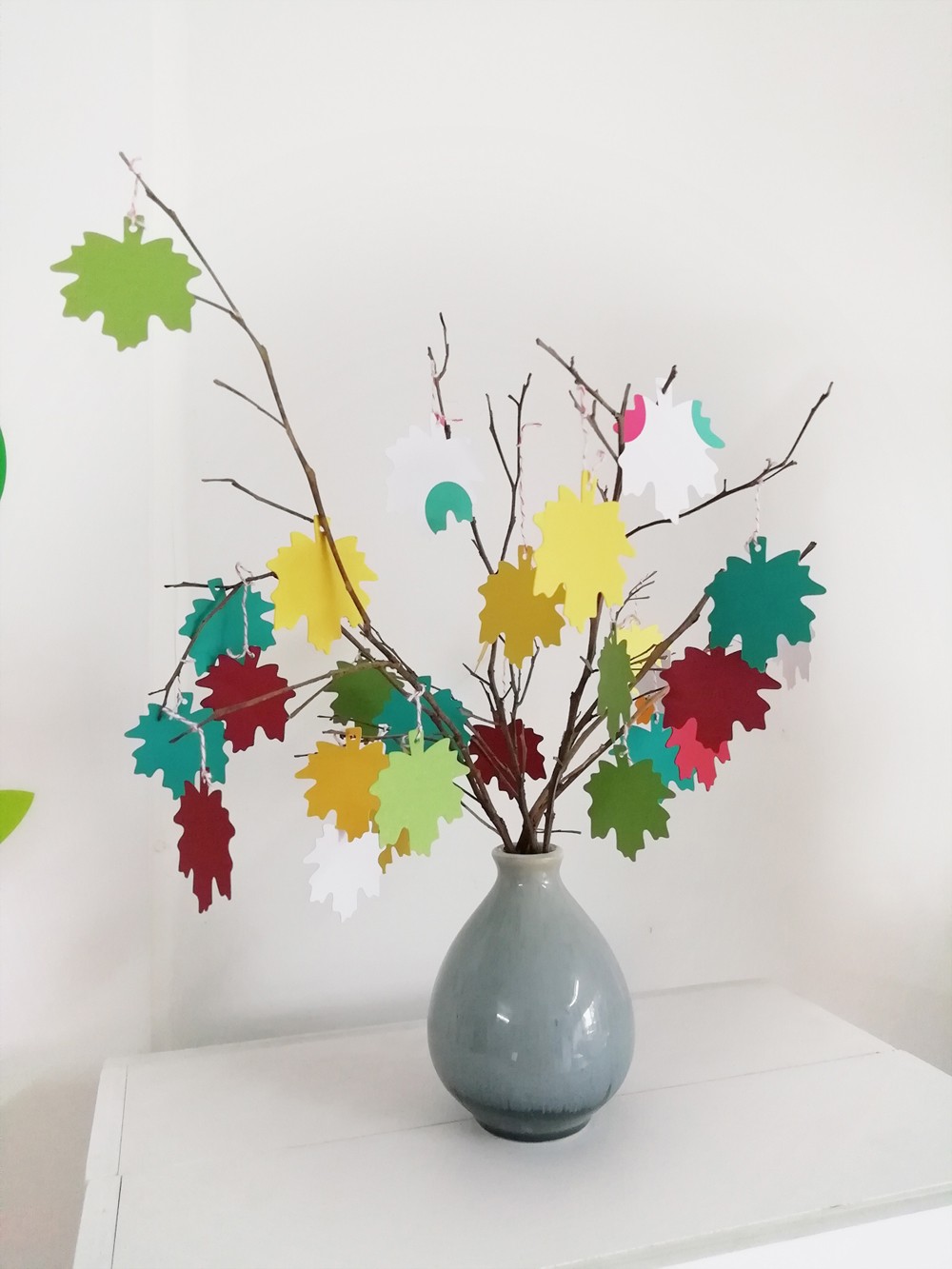 Finished: We get a amazing tree full of maple leaves!You can use it as a perfect home decoration.
Like we through our hands to call back spring .We let the twigs has a twice life.We help the twigs from winter to spring!That is exciting!It means we creat a different world,against nature rule.Let a tree has beautiful look in the winter!The DIY work is really amazing.Full of funny!
At last,the pattern paper I used today is all from Heyi.As you can see,Heyi is very professional manufacture and suppliar for craft materials.It has more than 5 years experience .Welcome to purchase craft materials from Heyi.Heyi is a professional exporter also.A chance you give Heyi,a surprise you will get in turn.
Hope I brought you a enjoyable craft class!
The next topic of heyi craft topic is felt sheets,looking forward to your visit.
And if you are interested in Heyi(manufacture),do not forget visit the homepage,the product you are looking for is also waiting for you!
Thank you for join today's heyi craft class!
Hope you have a wonderful day!